70 Years of Excellence
Laura Ashley, renowned for 70 years of design excellence, stands as one of the most cherished home and lifestyle brands globally. Laura Ashley's impact on British interiors remains unparalleled, with its extensive archive standing as a testament to its influence. The journey of this lifestyle brand dates back to 1953, when Laura and Bernard Ashley started hand-printing fabric at their kitchen table in a modest flat in Pimlico, London. Their inspiration came from a Women's Institute exhibition they had been to at the V&A museum, igniting the spark that would lead to the establishment of an enduring and beloved brand. The iconic prints they created swiftly established the brand as a symbol of British design excellence. As Laura Ashley commemorates its 70th birthday this year, its legacy shines brightly.
Head of design, Helen Ashmore, expresses the ongoing inspiration drawn from their archive's prints and patterns. To celebrate the milestone, the 70th Anniversary Collection pays tribute to the brand's legacy by reimagining past icons and showcasing some of their lesser-known designs.
The remarkable 70th Anniversary Collection draws upon the finest and most cherished elements from the Laura Ashley archive, curating a range of "prints through the decades" with a contemporary twist. The collection reflects the brand's enduring commitment to timeless elegance and innovation, ensuring that Laura Ashley's influence on British interiors continues to flourish for years to come.
At Sue Cardy we have taken a look at some of the key prints from the 70th Anniversary Collection and picked our favourite prints to show you this exciting new collection.
Summer Palace
Drawing inspiration from a vintage Edwardian chintz curtain and chair cover found in the archive, Laura Ashley introduced Summer Palace in 1988. Ashmore, a spokesperson for the brand, remarked, "The design embodies the timeless essence of Laura Ashley, making it the ideal choice to celebrate our anniversary year. We are delighted to present two fresh colour options in our textile collection – a contemporary and evocative Midnight Blue, as well as a refreshing blend of Sage and Apricot for a springtime feel."
Summer Palace encapsulates the essence of British elegance. Now, you can infuse your home with the renewed fabric designs. Available in a variety of colours, Summer Palace can be transformed into curtains, blinds and soft furnishings around the home such as cushions and lampshades, handmade by Sue Cardy.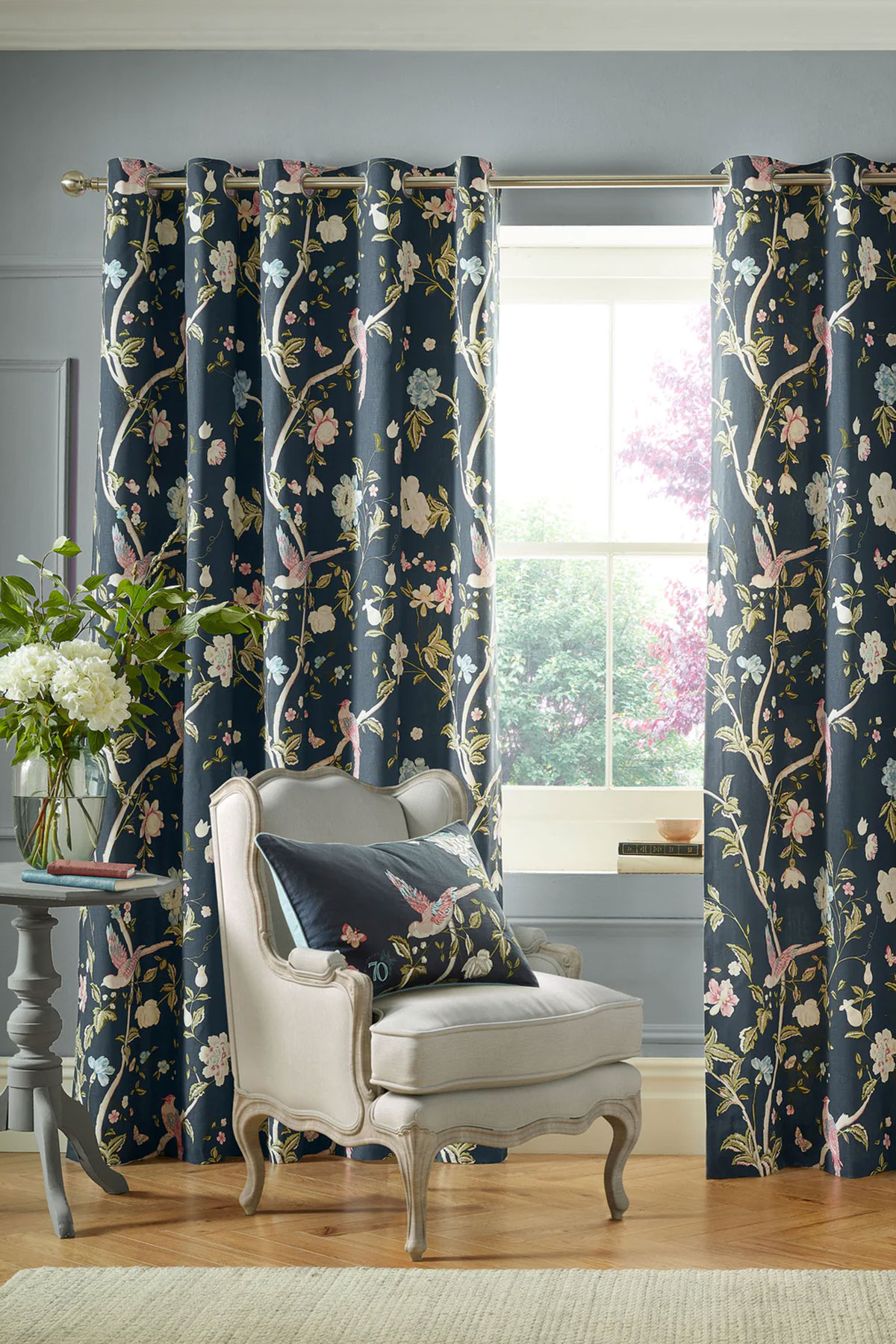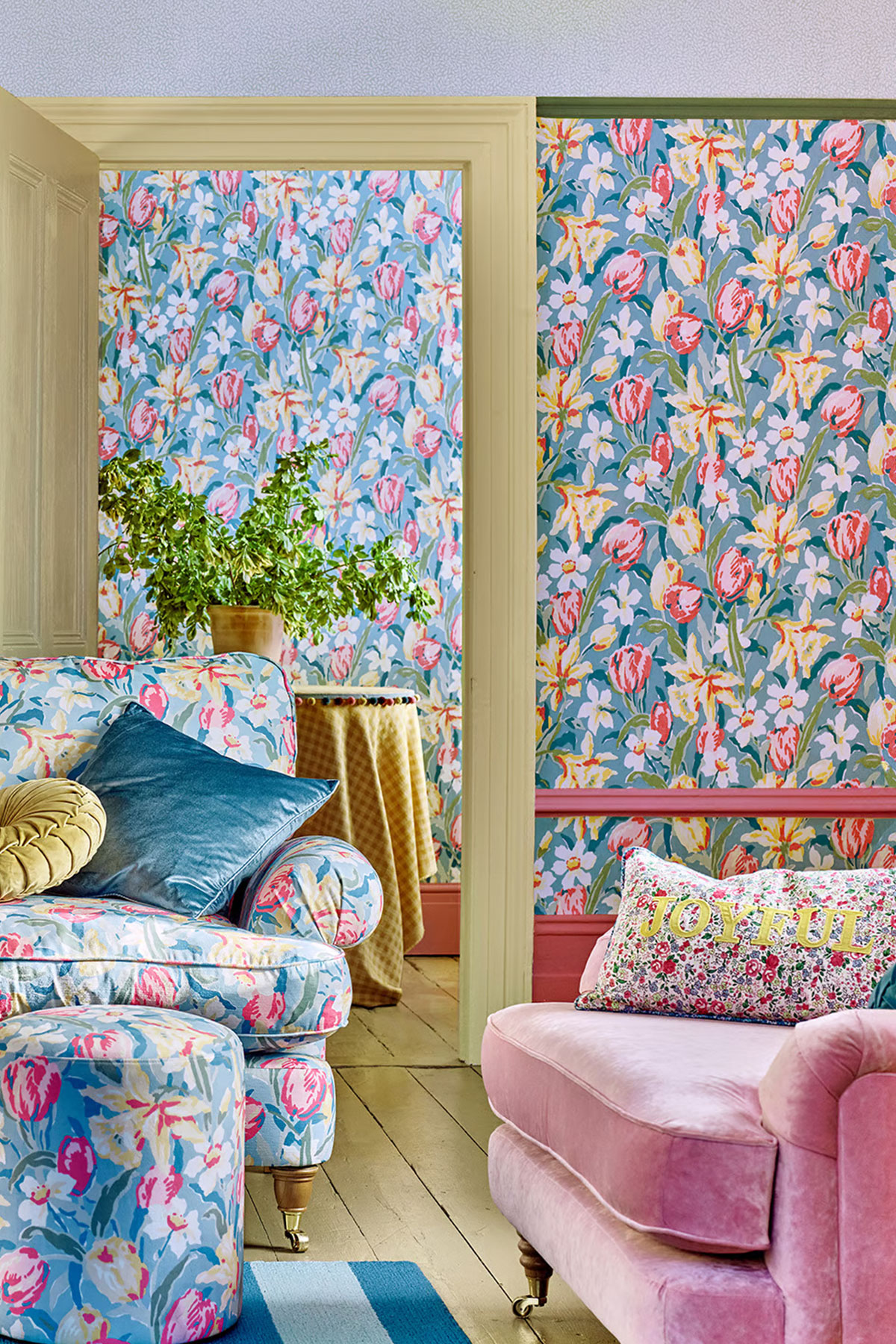 Tulips
In the early 1990s, Tulips was first introduced as a spring-inspired, gouache-painted artwork featuring a mix of tulips and daffodils.
Ashmore enthusiastically shares, "It truly sparks joy and evokes a delightful sense of nostalgia. We've refreshed and updated it with a wonderfully vibrant and contemporary colour palette for our spring 2023 collection."
Tulips has been reimagined to infuse new energy into bedrooms and living spaces. Whether you want to create a themed room with wallpaper or add a cheerful touch with accents like cushions and rugs, Tulips brings a lively and rejuvenating atmosphere.
Tulips is a joyful print which offers a bright, colourful and happy print. At Sue Cardy we can turn this fabric into the perfect pair of curtains for any room in your home or perhaps a blind for a more modern look.
Tregaron
Introducing a brand new design to celebrate the 70th anniversary. As typical of Laura Ashley signature prints, it draws inspiration from nature, showcasing a graceful heron motif complemented by beaded swags and stylised leaves and flowers.
Tregaron serves as the perfect accent print, capable of elevating any room through its presence in made to measure curtains and blinds along with matching soft furnishings such as handmade lampshades and cushions. This print is available in shades of silver and blue, offering elegance that works well in the modern home and would fit into most interior designs.
Come and take a closer look by viewing this special edition fabric at our Northampton showroom.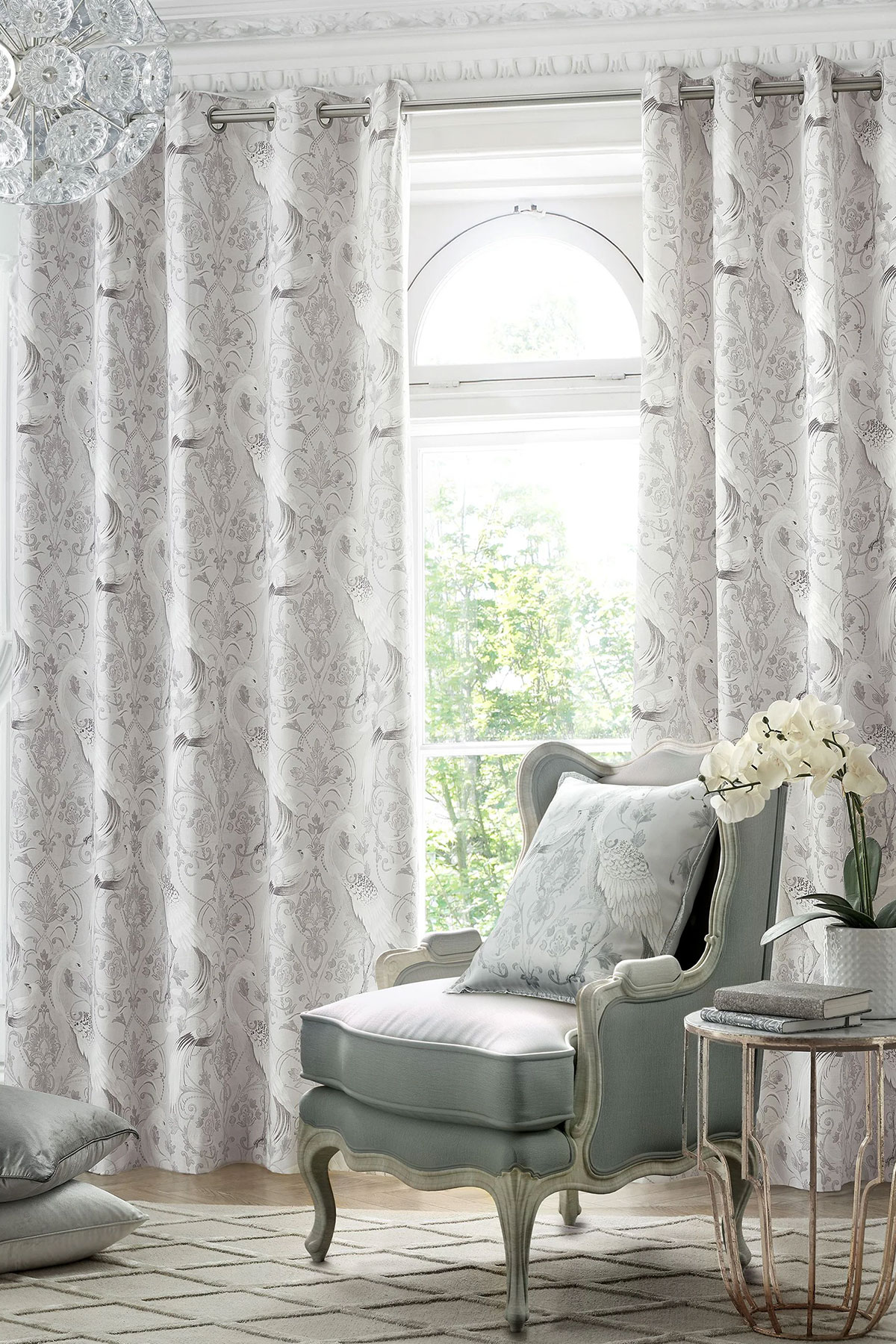 Laura Ashley Collection Available at Sue Cardy
To celebrate 70 years of Laura Ashley we have a fantastic new range of trimmings along with new handcrafted 40mm curtain poles available in a choice of over 70 colours and fabric books showcasing the new range of fabrics available.
If you would like to come and view the exciting new collection then please visit our showroom, by appointment only, and we can discuss what we can do for you. With your chosen fabric we can create curtains, blinds, cushions and lampshades and can complement these with the new collection of trimmings and curtain poles.